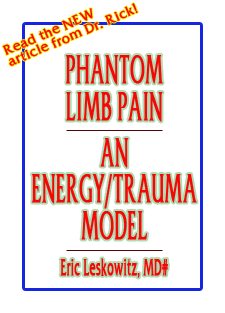 What is EnergyMedicine101.com?
Energy medicine is an approach to illness that uses the mystical force known as life energy to help create health. Many cultures have worked for thousands of years with this energy (also known as qi, or prana, or The Force) by way of such therapies as acupuncture, Reiki, homeopathy and the laying-on of hands. Modern science is now validating many of these esoteric concepts, by outlining the actual energy anatomy of the human body as well as the processes by which energy affects our physiology.

EnergyMedicine101.com presents one clinician's approach to this new blend of science and spirituality. The website presents articles for download, as well as information about Dr. Leskowitz's books and tapes. We will also be adding a blog soon! And make sure to watch the 4 minute trailer for the new film, "The Joy of Sox," click here. And make sure to visit the Joy of Sox website for more information.

About the founder of EnergyMedicine101.com:
Eric Leskowitz, MD is a board certified psychiatrist with the Pain Management Program at Spaulding Rehabilitation Hospital in Boston. He has an appointment with the Department of Psychiatry of Harvard Medical School, directs the hospital's Integrative Medicine Project. He has written and lectured widely on the field of energy medicine for both professional and lay audiences. Read more about Dr. Leskowitz here.

Dr. Leskowitz is available for workshops, lectures and consultations to clinicians and organizations about these issues.

Inside EnergyMedicine101:

Articles to Download

Books & Tapes

"Joy of Sox" Documentary

Upcoming lectures
& workshops


"Can Weird Science
Save the Sox?"
Read Dr. Leskowitz's
Boston Globe Op-Ed
September 26, 2005
download pdf or link
to the Globe


Watch the recent video
of Sidewalk Sam
at Spaulding
click here